NEPAL

ABOUT NEPAL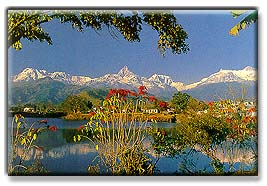 Nepal is a small country in South Asia situated between two giant nations, India and China. This tiny Himalayan Kingdom lived virtually isolated from the outside world for centuries, with its untouched massive mountains, green terraced foot hills, thick jungle terrain, awe- inspiring white rivers, and of course its people, who with their rich and colorful culture remain as beautiful as their natural surroundings.
Nepal is a trekker's paradise. It offers the most spectacular mountain scenery in the world with more than a dozen of the highest mountains on earth including the highest peak Mt. Everest.
Nepal is also the home of one of Asia's richest and most spectacular wild life sanctuaries- The Royal Chitwan National Park, Bardia, Koshi Tapu National Park, The wild life of National Parks includes the rare great one Horned Rhino, several species of deer, sloth bear, wild boar, fresh water dolphin, leopard, crocodile, over 450 species of exotic birds and the Royal Bengal Tiger.
This charming country presents a very rich culture preserved and maintained intact for centuries by its beautiful people. Nepal is the birthplace of "Lord Buddha" who enlightened the entire world with his messages of universal peace, compassion and humanity.
Nepal is a haven for adventure in the Himalaya and it has drawn hundreds of Expeditions from all over the world to conquer its high mountains. Since the historic conquest of Mt. Everest, the highest mountain on earth, Sir Edmund Hillary and Tenzin Norgay Sherpa in the early 50's Nepal's mountain have been scaled again and again by expedition from all over the world.
We invite you to join us on a visit to take you to exotic destination in the Himalaya. Where you will appreciate the spectacular mountains, stunning scenery, contact with local people who truly enjoy sharing their experiences with you and the opportunity to explore unique traditional cultures.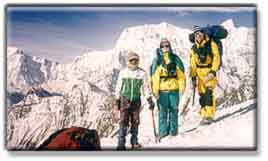 Contents
Himalayan adventure
Organized Treks
Tea House Treks
HIMALAYAN ADVENTURE
WELCOME TO THE LAND OF SHANGRI-LA
Nepal gives you a unique glimpse of a real untouched paradise. Here is your dream of Shangri-la which comes true when you open your hearts to us.
Traditional trek &expedition P.Ltd.,a professional trekking agency, specialize in giving you Nepal the way you want to see it. We tailor make trekking requirements with a team of well experienced hands.
Trekking can be as long or short, as easy or difficult as you wish. There are two types of trek in Nepal-those where you stay in small lodges or "tea house" and those which are fully organized or "camping Treks."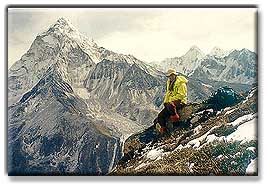 Most trekkers trek to the more popular trekking routes. For those who are interested in "real adventure" We use selected route which are seldom used by others to make your trek more interesting and fun. We have a wide variety of different treks to suit our clients of all age groups and level of experience. When selecting your trek, take note of the "Grade:. The higher the number the more difficult the trek.
GRADE 01
| | | |
| --- | --- | --- |
| Trekking Routes | Duration in Days | Remarks |
| Ghorepani | 1 to 10 Days | Short trek |
| Jomsom | 7-21 days | No experience required |
| Helambu | 14-17 days | No difficult climbs |
| Shivapuri | 2-6 days | Exciting village life |
| Siklis | 14 days | Mountain Panorama |
| Royal Trek | 3-7days | Trekkers paradise |
| Panchase trek | 4-7 days | Great mountain view |

GRADE 02
| | | |
| --- | --- | --- |
| Trekking Routes | Duration in Days | Remarks |
| Annapurna Base camp | 10 to 20 days | Adventure |
| Langtang | 7-21days | Slightly challenging |
| Ganesh Himal | 14-22days | Close up mountain views |
| Rara Trek | 14-28 days | Remote & well trodden routes |
| Panchpokhari | 14-28 days | Dense jungle |

GRADE 03
| | | |
| --- | --- | --- |
| Trekking Routes | Duration in Days | Remarks |
| Annapurna circuit | 07 to 21 days | Challenge |
| Everest base camp | 12-25 days | High altitude steep climbs to 5500m |
| Mustang | 14-28 days | Hidden valley |
| Makalu base camp | 21-35 days | Glacier crossing |

GRADE 04
| | | |
| --- | --- | --- |
| Trekking Routes | Duration in Days | Remarks |
| Simikot Trek | 07 to 28 days | Stamina |
| Dolpa Trek | 12 to 25 days | High Altitude |
| Manaslu Trek | 14-28 days | Rope climbing |
| Kanchenjunga Trek | 25-36 days | Rough terrain |
| Dhaulagiri Trek | 18-28 days | Wilderness |
| Rolwaling Trek | 20-25 days | Unspoiled trail |



SERVICES INCLUDED IN PRICE:-
ORGANIZED TREK:-
Includes all meals during trek, sleeping tent, dining tent, toilet tent, mattresses.
Sirdar, Cook, Sherpa, Porters and other trek crews.
Transportation to/from Kathmandu of all equipmints, food and staff.
Daily wages, food and accommodation for the whole staff.
Trekking permit fee, National Park and conservation fee and insurance for the whole staff..
TEA HOUSE TREK:-
Includes lodge accommodation with food.
Guide and porter.
Transportation to/ from Kathmandu by coach.
Trek permit fee, National park and conservation fee, guide and porter insurance.
EXTRA:-
Royalty of peak permit (equipments, wages, fooding and lodging for Laison officer) deputed by Government for the newly opened trek routes such as Mustang, Manaslu, Inner Dolpa trek.
Personal expenditure such as hard and soft drinks etc.
Airport departure tax, Hotel accommodation in Kathmandu and Pokhara.
Extra sight seeing & cultural shows.
Rescue Helicopter
Domestic air Ticket.
For Itineraries & program please contact:-
Traditional treks and Expedition P Ltd.
P.O.Box 6003,
Kathmandu, Nepal
Tel: 00 977-1-4258589
Fax:00 977-1-4266534
Email: traditional@wlink.com.np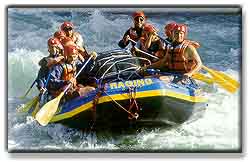 White Water Rafting means cruising down a rushing river in an inflatable rubber raft or white water kayak over crashing waves and swirling rapids for the excitement of a lifetime. Nepal has earned a reputation as one of the best destinations in the world for white water rafting. Nepal' thundering waters, coming from the glaciers of the mighty Himalaya, provide unmatched thrills for rafting and immersing oneself in the landscape. A rafting trip is bound to be the highlight of your stay in the country.
HERE ARE SOME OF THE POPULAR RAFTING TRIPS
TRISULI RIVER Days:-1-2
Day 01- Kathmandu-Charaundi by bus 3 hours drive. Your rafting starts after your guide instruct you about the trip. Presence of many rapids makes this part the best for white water rafting.. After 2 hours rafting we make a lunch break and continue again and camp at Kurintar.
Day 02- Trip commences after breakfast and continues up to lunch break. It resume after lunch and the trip ends at Panch kilo. You can either return to Kathmandu or proceed to Pokhara or Chitwan National Park.
SETI RIVER Days:-2
Day 01- From Kathmandu or Pokhara drive to Damauli starting point. Not many rapids as on second day. Camp first night on a spacious beach.
Day 02- After breakfast, while floating down the river we get some technical rapids and the topography changes with lots of rock formation. After lunch trip end at Gaighat and you can either return to Kathmandu or proceed to Pokhara or Chitwan National Park.
KALI GANDAKI RIVER
Total river days-5
River grade 4/5
Starting point - Nayapool
Ending point-Ramdi
A beautiful unspoiled river with good white water, gorges, wildlife and a feeling of remoteness. Recommended for people wanting and exciting medium - length raft trip and as a self - sufficient kayak trip for intermediate and expert Kayakers.
SUN KOSHI RIVER:
Total River Days -8
|River Grade 4/5
Starting point :Dolalghat
Ending point : Chatara
Transfer to Dolalghat and start rafting on one of the world's ten best river Sunkoshi. The first two days full of fun and the rest of the days white water class 4/5 rapids .Raft ends at Chatara transfer to Kathmandu via Dharan.
For more information contact:
Traditional treks and Expedition P Ltd.
P.O.Box 6003,
Kathmandu, Nepal
Tel: 00 977-1-4258589
Fax:00 977-1-4266534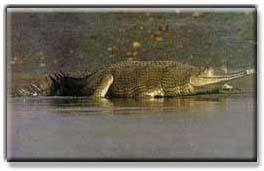 While the high Himalaya makes up Nepal's northern region, the southern lowland know as the Terai is covered with dense tropical jungles teeming with diverse wildlife and exotic birds. Here you will find some of the most exciting safari destinations in the world. You will be going in to deep jungle in elephant back or four wheel drive vehicle to view wild animals in their natural habitat. Other thrills are canoe rides on the jungle rivers, nature walks, bird watching excursions, and village tours.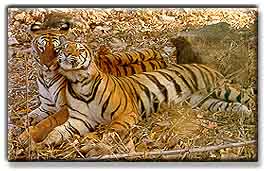 Among the 14 national parks and wildlife reserves in the kingdom, the Royal Chitwan National Park (932 sq. Km) is the most popular safari destination. More than 43 species of animals are found in Chitwan. The endangered one-horned rhino, royal bengal tiger, gharial crocodile, four-horned antelope, striped hyena, and the gangetic dolphin are the main attractions here. The best part is that it is close to Kathmandu and easily accessible (only 165Km overland), and Bharatpur airport adjoining the park is a mere 25-minute flight away. Many adventurers also choose to go down by raft. However you go, a jungle safari is experience you will remember for a long time.
Kathmandu
The ancient history of Kathmandu begins from Manjushree (The Buddhist Saint). Before Manjushree came to Kathmandu it was a lake, he cut southern side of the lake and drained out the water and made it in habitable. Kathmandu contains three tabled cities named Kathmandu, Patan and Bhaktapur. Many dynasties came and went. Trade and arts flourished. There are seven heritage sites in the valley.
Kathmandu Durbar Square
A couple of palaces, temples and traditional art of culture and it is protected as the Heritage Site in the social, religious and urban focal point of the city. It is called as Hanuman Dhoka. The site guarded by God Hanuman, the temple-resident of Kumari as Kasthamandap, after which the word Kathmandu is named.
Swayambhunath
An ancient stupa at the top of a steep hill. Believed to be more than 2000 years old. The over looking eyes of the Buddha on central stupa seen from all round in the four sides is a glamorous view to watch. Beside the central stupa many other small sizes of stupas can be seen all round. This temple is also called as Monkey Temple.
Patan
The best place to see Buddhist and Hindu temples, monasteries and traditional Nepali artisan at work. The centuries old Durbar Square palace, Krishna temple of ten thousand Buddha, Maha Bouddha etc can be seen.
Pashupatinath
The Pashupatinath temple stands along the side of Bagmati river. It is the holiest Temple for Hindus. Many people from different part of Asia visit Pashupatinath temple. Pashupatinath dedicated to lord Shiva, is also a site for Hindu cremation. During the festival Shiva Ratri, there is a vast crowd from many parts of Asia as this festival is the biggest festival of worshipping lord Shiva.
Bouddha Nath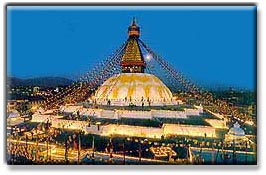 Possibly the world's largest stupa and center of Tibetan Buddhist Culture in Nepal. Antique shops where you can buy things of your interest relating to Buddhist surround the monastery. During the Tibetan New Year, There are many Buddhists visiting Bouddha.
Bhaktapur
The city Bhaktapur known also as Bhadgaon 'city of devotees' is 14 km east of Kathmandu. The exquisitely carved 55 windows palace. The Golden Gate an old palace, 5-stored Nyatapole temple and Bhairav Temple near by and Duttatray square etc can be observed.
Nagarkot
About an hour driving passing Bhaktapur through beautiful countryside taken you to the top of the Nagarkot (2175 m). This place is very famous to view the spectacular Himalayan Range from Manaslu to Everest and eastward including Ganesh Himal, Langtang etc. Best view of sunrise and sunset. Numerous Hotels can be found in Nagarkot.
Dhulikhel
30 Km east of Kathmandu Valley. The way to Tibet and is one of the scenic spots of valley. Mt. Langtang to Mt. Everest are to be viewed from Dhulikhel. It has some interesting temples and old houses in the city. Namabuddha a pilgrimage place of buddhists can also be visited in a day. There are also resorts and hotels to stay.
.