TIBET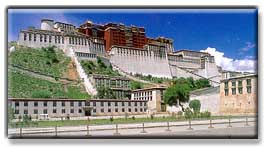 Tibet is a mountainous country in North Asia situated between China and Nepal. Tibet is also known as "The Roof of The World". Tibet was opened to tourist in 1985. Tibet, home of Buddhisim is land of extra ordinary beauty.
Tibet offers great adventure for trekking and expedition. It offers spectacular panoramic views of holy Mount Kailash, Lake Mansarover, Everest Base Camp, Shisa Pangma etc.
Tibet presents a very rich culture preserved and maintained for centuries.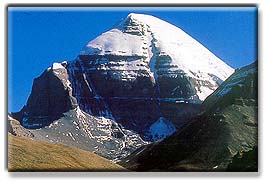 The Central Tibet Overland Tour
7 Night 8 days Drive in-Fly out/guaranteed departure every Saturday
Day 01/Sat KATHMANDU-NYLAMU (3750 M)123Kms
Early morning drive from Kathmandu to Kodari (Approx. 6 hrs). After completing immigration and custom formalities drive uphill to Zhangmu. The tibetan guide will meet the Group on arrival at the check post. Proceed to Nyalamu O/Nt in Nyalamu.
DAY 02/Sun NYALAMU-XEGAR(4350m)-213 Kms
Drive (Approx. 7hrs) to Xegar crossing two spectacular passes NYALAMU PASS (3800m) and LALUNG LA PASS(5082m). This drive offers fantastic view of the high mountains including Mount Everest (8848m)0/Nt in Xegar.
Day 03/Mon. XEGAR-XIGASTE (3900m)-244 Kms.
Drive (approx7hrs) to reach Xigaste the place of famous Tashilunpo Monastery and seat of Panchen lama until his death in 1989 with its huge thangka wall which is clearly visible from the north side of the road. Enroute you visit SAKYA MONASTERY provided the road condition is good. The monastery is 26 Kms off from the main road and it is the oldest and most important Bonpo monasteries and O/Nt at Xigatse.
Day 04/Tue XIGASTE-GYANTSE(3950M)-90 Kms.
In the morning visit the Tashilunpo monastery and the free bazar of Xigaste. After lunch embark on a pleasant 2-hrs drive to Gyantse. Here you visit the Khumbum stupa and Phalkor Monastery and O/Nt in Gyantse.
Day05/wed GYANTSE-LHASA(3650M)-259 Kms.
The drive to Lhasa takes 08 hours crossing 2 passes THE KARO LA (5010m) and KAMBA LA LA (4794m) PASS and Lake Yamdrok Tso (Turquoise Lake). You will cross the Yarlung Tsangpo (Brahamaputra) river and see the distant view of the Potala palace and O/Nt at Hotel Banakshol.
Day06/Thu&Fri LHASA SIGHTSEEING TOUR
Visit Potala Palace, Norbulinka palace, Drepung & Sera monastery, Jokhang temple & Barkhor Bazaar and O/Nt at Hotel Banakshol.
Day 08/Sat LHASA-KATHMANDU TRANS HIMALAYAN FLIGHT.
Transfer to Gonggar Airport, which takes about 02 hrs driving. The flight duration is 1 hrs and 10 min and it is one of the most beautiful flights in the world. On your flight you shall see the Yarlung Tsangpo river, Lake Yamdruk, Mt. Kanchanjunga (8586m0), Mt.Makalu(8463m) and Mt. Everest *(8848).
Tour cost 650.00 USD nett and Visa fees as per Nationality bases.
Cost Includes: drive from Kathmandu to Kodari and Zhangmu to Lhasa by private coach, 2 days sightseeing tour in Lhasa throughout the trip with English speaking Tibetan guide. Monastery entrance fees, accommodation for 7 Nights with breakfast on twin sharing basis, airfare (Lhasa- Ktm.) extra: Nepal entry-entry visa fee, All the meals (lunch, dinner) airport dep. Tax, Extra cost in the event of Landslide and expenses of personal nature.
14 DAYS KAILASH / MANASARPVAR OVERLAND TREK/TOUR ITINERARY

ITINERARY:
DAY 01 KTM - Kodari (Border) - Nyalam Hotel L. D
Day 02 Nyalam –Lablungla Pass-Paiku Tso Camping B. L. D
Day 03 Paiku Tso - Saga – Dzongba Camping B. L. D
Day 04 Dzongba Paryang River-Mazomala Pass Camping BLD
Day 05 Mazomala Pass – Darchen Darchen (G.H) B. L. D
Day 06 Mt. Kailash circuit Camping B. L. D
Day 07 Mt. Kailash circuit Camping B. L. D
Day 08 Mt. Kailash circuit & Manasarovar CampingB.L.D
Day 09 Walk around Manasarovar Camping B. L. D
Day 10 Manasarovar - Mazomla Pass Camping B. L. D
Day 11 Mazomla Pass – Dzongba Camping B. L. D
Day 12 Dzongba - Paiku Tso (lake) Camping B. L. D
Day 13 Paiku Tso – Nyalam Hotel B. L. D
Day 14 Nyalam-Kodari(border)-Kathmandu x B. L.
B=Breakfast
L=Lunch
D=Dinner
G.H=Guest House
11 DAYS LHASA OVER LAND TOUR.
Day 01 Drive by road to Kodari and Zhangbu O/nt in Guest house.
Day 02 Drive from Zhangbu to Shegar & O/nt in Hoel.
Day 03 Drove from Shegar to Shigatse O/nt in Hotel.
Day 04 Morning visit Tashilumpo monastery, Drive to Gyantse O/nt in Hotel.
Day 05 Morning visit Palkhor monastery and Khumbum gompa, drive to Lhasa
Day 06 Rest and visit Jokhang temple and Barkhor & O/Nt in Hotel.
Day 07 Visit Drepung, Nechung and Norbulinghka & O/nt in Hotel.
Day 08 Visit Potala and Sera & O/nt in Hotel.
Day 09 Drive from Lhasa to Shigatse & O/nt in Hotel.
Day 10 Drive from Shigatse to Zhangmu O/nt in Hotel.
Day 11 Drive from Zhangmu to Kathmandu Transfer to hotel in Kathmandu.
14 DAYS TREK/TOUR TO LHASA- EVEREST BASE CAMP
Day 01 Katmandu/Morning Fly to Lhasa & transfer to Hotel.
Day 02 Lhasa, Visit to Potala Palace, Jokhong & Barkhor
Day 03 Lhasa, Visit to Drepung Monastery and sera.
Day 04 Lhasa Day trip to Ganden
Day 05 Lhasa/Drive to Gyantse, Visit Kumbum Mnastery,
Day 06 Gyantse/Drive to Shigatse, Visit Tashilungpo Monastery,Shandong Mansion
Day 07 Shigatse/Drive to Shalu starting trek, O/nt in camping
Day 08 Shalu/Trek to Ngor via Showa La pass (4100m) and Chak La pass (4470m) O/nt in camping.
Day 09 Ngor/Trek Narthang via Ngor monastery and Narthang monastery & O/nt in Camping.
Day 10 Narthang/Trek back to Narthang & Drive to Tingri & O/nt in Hotel .
Day 11 Tingri/Drive to Everest Base Camp, & O/nt in Local Lodge.
Day 12 EBC /Trek around EBC O/nt in Local Lodge.
Day 13 EBC/Drive to Zhangmu & O/nt in Hotel.
Day 14 Zhangmu/Drive to Kathmandu and transfer to Hotel.